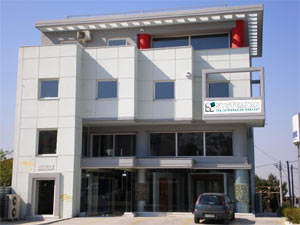 SYSTEMLAN S.A. was created in 1993 by distinguished professionals in the field of IT, with over fifteen years experience in the management and marketing of IT systems and applications development. Today the company offers integrated solutions in IT and Telecommunications for both the private and public sector.

SYSTEMLAN S.A. implements all necessary procedures to ensure the highest quality of service, which led to the certification of the Company under the quality assurance standard EN-ISO 9001:2000 by the international organization TUV - AUSTRIA.

VISION, MISSION AND CORE VALUES
Our vision is to offer the best integrated solutions that suit your environment.
Our goal is to help our clients achieve their targets through the aid of technological advancements. This involves an absolute commitment to the perfection of our performance and the quality of our products. We believe we can achieve this goal through the guidance of our core values:
Our commitment to customer satisfaction, as the most important business objective.

Recognizing that the success of SYSTEMLAN S.A. is the participation of employees who are setting high standards of professionalism and technical competence.

Maintaining high ethical and business conduct.

Recognizing and responding aggressively to new business opportunities with a commitment to success for the ones we choose.

Our success having as a prerequisite achieving profitability and growth, along with building a stronger position in our market.
HUMAN RESOURCES
The selected human resources are the company's great asset. This asset allows the company to differentiate itself in the Greek Market by offering integrated solutions and advanced services, which is our goal and long-term strategy.
ORGANIZATION OF THE COMPANY